Summer can be great when you are lucky enough to spend it in a place like Ibiza. Among the charming corners of this enchanted isle, Sant Josep de sa Talaia is the one that has the most kilometres of coastline, making it all the more enticing for holidaymakers.
We would like to propose four of the most impressive beaches in this area to help you locate a patch of sand where you can set up your own private paradise. Because, with sunshine, a sun-bed and splash in the sea, summer becomes bliss!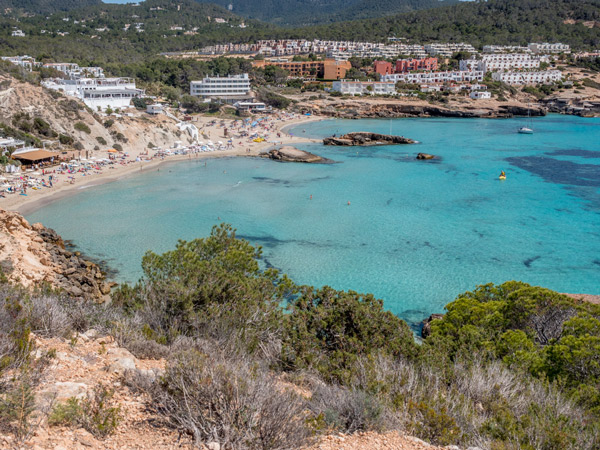 Cala Tarida beach
This beach is the best option for those who want the complete beach experience. Its many beach bars and restaurants as well as the variety of aquatic and nautical activities on offer are just some of the amenities that make this beach outstanding. Cala Tarida has a main beach as well as several tiny coves that lie hidden under the surrounding cliffs. Some coves even have fishermen's huts, giving them added rustic charm. Once you've decided which stretch of beach you like best, settle in and enjoy the calm waters. When evening falls, there's nothing like bidding the day farewell with a cool cocktail. You can get one at any of the nearby terrace bars that climb up the cliffs – so much the better to watch the sunset.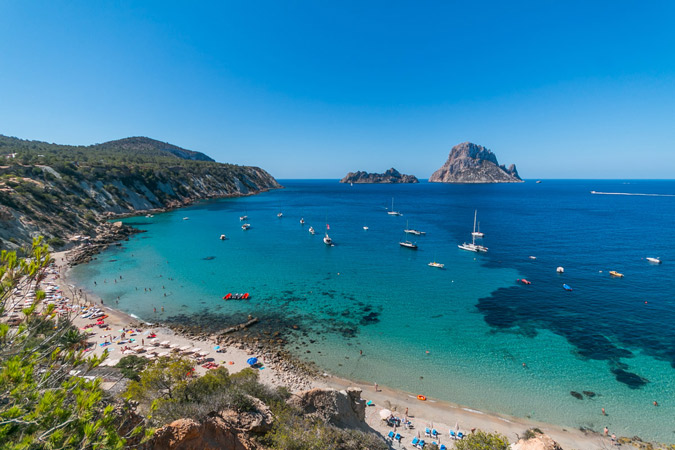 Cala d'Hort beach cove
How to describe Cala d'Hort and its impressive seascape? This fascinating beach is the best one for contemplating the famous Es Vedrà islet, always accompanied by its little sister Es Vedranell. Together, these sea rocks comprise one of the most iconic images of Ibiza. Cala d'Hort is a beach of crystalline waters and enchanting fishermen's huts that nestle along the coast and trail out on either side. It is also known for having some of the best maritime gastronomy on the island. This is one of those places where just by gazing out at the horizon you will feel it was worth the long drive. If you come around sunset, you will surely fall in love with the spot. Don't forget to finish off your day with a good Ibicenco-style paella at any of its restaurants!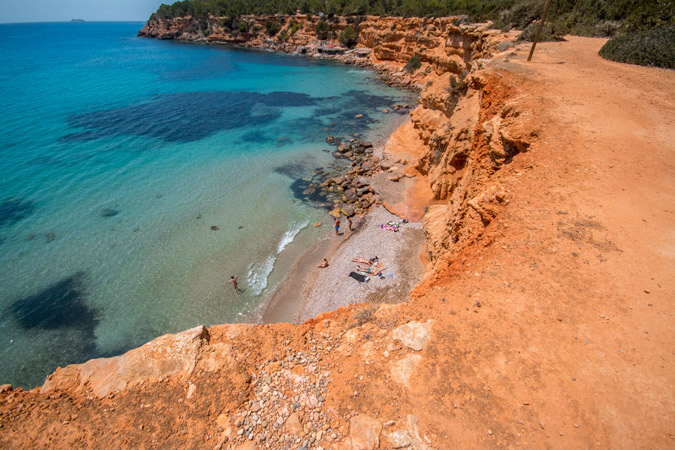 Es Bol Nou creek
Heading south, we find one of the most unusual beaches on the island. Its waters are crystal clear thanks to its white-sand seabed, but the surrounding cliffs are composed of red clay, lending a curious chromatic mix that makes for a unique landscape. The beach is called Es Bol Nou, a peaceful place with shallow waters where you can spend a quiet day. One of its wonderful added attractions is that, behind those picturesque cliffs, lies the ancient Phoenician settlement Sa Caleta, the island's first and a vital part of its history. Just off the settlement, we find the inlet of Sa Caleta, a natural harbour where even today we find fisherman's huts that are still in use – HQ to fishermen who daily cast their nets in the time-honoured tradition of their forefathers.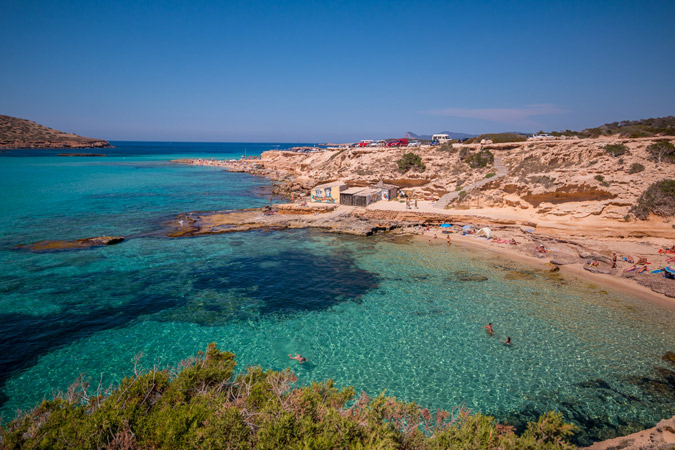 Cala Comte

Cala Comte is hands down one of the best beaches in the west of Ibiza. Its endless nooks and crannies provide strategic spots for towels and beach gear, while its turquoise waters are an incomparable treasure. If, to this already idyllic scene, we add the stunning string of islets that stud its horizon and the prime vantage point for viewing the sunset, it becomes clear that nobody should leave the island without visiting this jewel of nature. Bathing in the evening waters as the sun sets behind the fabled Illots de Ponent (Western Islets) is the perfect ending to a perfect day.