We are lucky to live on an island with beautiful views of the Mediterranean. And one of the most special and pleasurable things we can do to take advantage of this gift of nature is to enjoy a good meal with the sound of the waves in the background and wonderful views in front of the beach. That's why we recommend another 3 restaurants facing the sea which you must not miss (You can see the first part of our special recommendation of delicious restaurants in Ibiza facing the sea by clicking here)
We start our recommendation in the Natural Park of Ses Salines of Ibiza and Formentera with the famous Jockey Club Ibiza. Since 1993, Jockey Club has brought us on the beach of Ses Salines a Mediterranean-based cuisine with Asian and international touches, complimented by a selection of homemade pizzas cooked in their special oven that will delight anyone trying them. During the summer months, they have live music by renowned Dj's from the Ibiza scene who make your visit to this ideal chiringuito (beach restaurant) accompanied by one of their cocktails. The restaurant has a large number of hammocks and sunbeds on the Salinas beach which are perfect for enjoying the Ibiza sun. It is open almost all year round, an ideal setting to enjoy in the summer as well as out of season.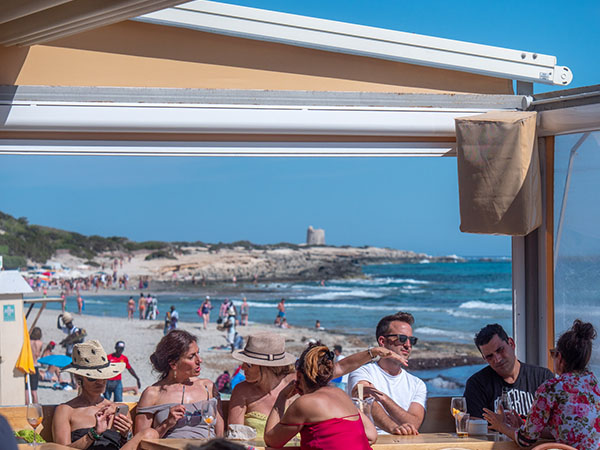 On one of the most fashionable beaches on the island, Cala Jondal, we find the mythical Tropicana Beach Club. Year after year, reinventing themselves without losing the essence of the typical Ibiza bar and restaurant. Tropicana offers two ambiences: restaurant on one side and beach bar with hammocks on the other. Its Ibizan cuisine is one of the most famous on the island: there are rice, fish baked in oven or in rock salt, and bullit de peix (local fish stew) reminding us of its Ibizan roots, as well as more international dishes like delicious cheese ravioli with mushroom sauce and truffle oil. They also have a full breakfast menu, ideal for enjoying the first meal of the day in front of the sea. As a complement to its gastronomic offer, Tropicana celebrates its well-known "Tropical Nights " on Fridays and Sundays during the summer where you can enjoy live music and plenty of Latin rhythms.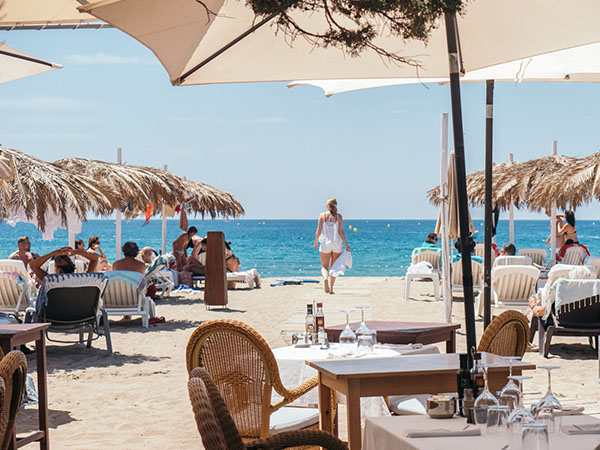 Now we move to a most rustic and authentic place under the cliffs of Es Cubells, on the beach of Ses Boques. There we find a small chiringuito located next to the shore of this small cove and wild air, which was named after the cove.
This restaurant offers us a rich traditional Ibizan and seafood cuisine, rice, fish and shellfish of high quality with exceptional views. Ses Boques Restaurant is one of our favourites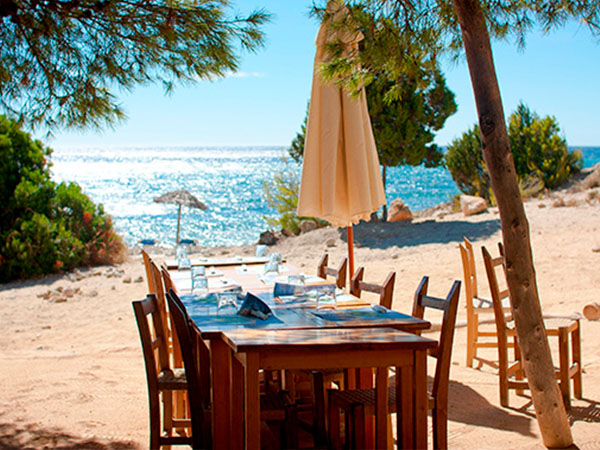 Finally, we moved to the impressive area of Platges de Comte, to sit at the table with impressive views that take in Ses Roques. Here they offer an Ibizan menu: fresh fish and seafood and rice dishes as well as a wide range of gastronomic offers with salads, meats or pasta. Its unique natural environment makes it one of the most sought after locations for weddings and other celebrations… And that's no surprise! They are lucky to have one of the most impressive sunsets on the whole island.