We're in full summer season and it's hot in the island of Ibiza!! It's time to relax, enjoy the sun, enjoy a refreshing swim and lie on a sunbed. Here are cool and tempting suggestions for enjoying Ibiza: Three quiet and secluded beach coves you can't miss.
Let's start by the south of the island of Ibiza, in the beach of Cala Carbó, located in between two other incredible beaches, Cala d'Hort and Cala Vadella. But surely Cala Carbó is a fine discovery for anyone who's lucky to enjoy it at least for one day. Fantastic little Mediterranean cove, very "Ibiza style", protected by hills and surrounded by pine trees. Mixture of sand and pebbles, crystal clear waters and a wild nature look. Very quiet and family atmosphere. Though being a small beach cove, it has two fabulous seafood restaurants. "El Balneari de Cala Carbó" and "Can Vicent", which cook exceptionally good all those seafood treasures offered by the Ibizan sea. Also fantastic paellas and rice dishes and fresh fish stews.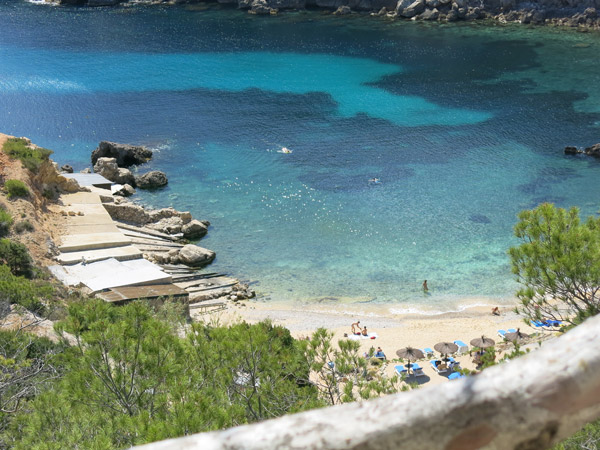 Let's show you now our second proposal. Cala d'en Serra cove, this tiny hidden spot is ideal for those who want to relax in the sun and swim in a natural sea "pool" in the north of Ibiza. A fascinating wild and natural environment. The beach has many authentic fishermen's huts. Its shaped as a small bay and surrounded by steep cliffs. It has parts of coarse sand and others with pebbles. Clear waters and turquoise and green colors. Perfect for snorkeling. It also has sunbed service and a beach bar, where you can regain energy with simple dishes and snacks.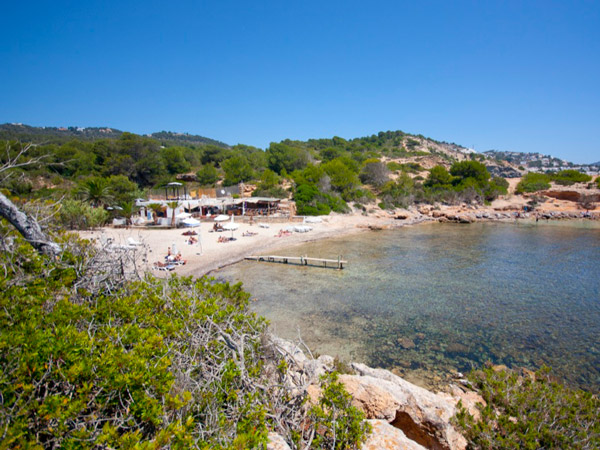 And today's last suggestion is another Ibiza treasure, S'Estanyol beach. Secluded, quiet, with traditional fishermen's huts, both with sandy and rocky parts, surrounded by a forest of  pine and juniper trees and a very cool beach bar. It's kind of isolated but not far from Ibiza town, although it's part of the coast of Santa Eulària des Riu municipality. The beach bar is called PK2, with a rustic look and a chic ambiance. They offer an easy cuisine based on combination platters, but where you can also enjoy excellent paellas and fresh fish dishes. A real luxury to eat right on the sand of the beach while enjoying a fantastic sea view.