For those adventure lovers and who get tired of sunbathing, there are many ways to explore and discover the island. One of the most affordable and suitable ones for everybody is kayaking, a great way to practice sport while enjoying the beautiful cliffs and coves that adorn the Ibizan coast and often are inaccessible by land. So, if this idea tempts you, here we show you three interesting kayak routes for enjoying the sea and coastline. Are you in?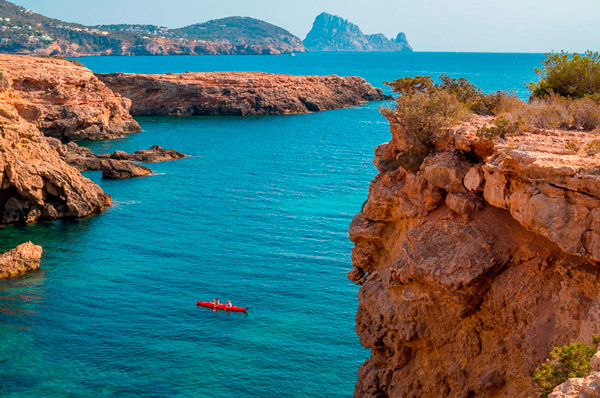 Route Es Torrent-Porroig (Route 2)
One of the most attractive coastlines to skirt along is the Es Cubells one. The bay of Porroig, for example, is a very interesting spot on this route with calm waters, usually a shelter for sailboats and yachts. It starts from Es Torrent, a small cove next to this bay. Once we go a bit further into the sea, we will border the coast to the south and pass by the area known as Ses Illetes. In the meanwhile you can enjoy the wonderful rocky sea bottoms which mixes parts of sandy and Posidonia seagrass areas. Once passed by, we will keep bordering the coastline to access the bay. First, we will see the sandy beach of Es Cucó, which is almost impossible to reach by land, so it is a great opportunity for enjoying it and taking a refreshing dip. If we continue along the bay, we will reach the beach of Porroig, which has many fishermen's huts with its boat slipways, which gives it a very picturesque look. Finally we'll go back to Es Torrent going across the bay and passing by Ses Illetes again, but this time by the other side. When you reach the beach of Es Torrent you'll realise that this lovely route has only been of about one hour and three and a half kilometers in distance.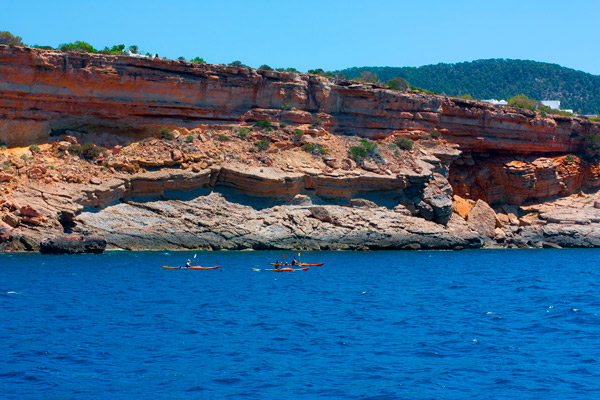 Route Cala Bassa-Punta de sa Pedrera (Route 3)
Cala Bassa will be the starting point of this route of the west coastline of the island, as this cove usually has very calm waters and is easily accessible by kayak.
This route is about an hour and a half long in which you will see the impressive surrounding cliffs as we approach our destination, Punta de sa Pedrera, in the east. Along the way we will find different underwater caves. Rarely you have the opportunity to access such places if is not by sea.
Once reached Punta de sa Pedrera, just before entering the bay of Port des Torrent, you'll discover that this is an old sandstone quarry that has left curious and surprising geometric shapes. If the condition of the sea allows it, you can access the interior, which has a shallow bottom and where we recommend making a stop so you can rest and enjoy the place.
The returning route will be the same, with a total traveling distance of about four kilometers. It is an easy route if the sea is calm, which is a very common condition in the summer.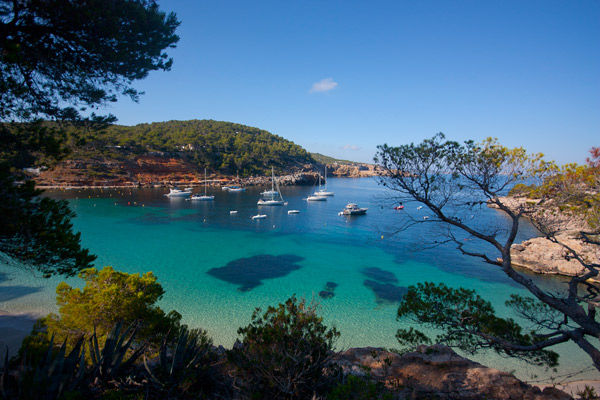 Route Cala Salada-Racó de sa Galera (Route 5)
On the north coast of the town of Sant Antoni you'll find the wonderful beach of Cala Salada, the starting point of this last route. We'll tour the area in an excursion of about one hour long that will allow us to enjoy the charm of a sandy beach surrounded by lovely fishermen's huts. Before heading south and exit this bay, you should also visit Cala Saladeta, the smaller sister of Cala Salada.
Once you start to border the coast, you'll notice that there are many interesting rocky formations, and its flat shape make them an ideal area for bathing. Then you'll reach the Racó de sa Galera, a solitary pebble beach sheltered from Punta Galera, the ideal place to relax before going back to Cala Salada after an excursion of four kilometers in total. Certainly a great way to discover the beautiful coastline of Sant Antoni.