There are countless ways to enjoy a fabulous holiday in Ibiza but in many cases, the place where you stay is crucial. Can you imagine being in paradise but bad service at the hotel ruins your holiday? Or the apartment that seemed so spacious online turns out to be minuscule? These unforeseen events can take away from the ideal holiday you imagined, but choosing a villa like ours can be the answer to your concerns upon booking, as well as certain success in making your holiday in Ibiza perfect.

About Residencial Bogamarí?
Residencial Bogamarí is a set of 8 independent Ibicenco-style villas built on one floor. All are integrated in a closed area of ​​3,000 m2 with gardens and a large central pool.  We have villas of 2, 3 and 4 double bedrooms, all arranged around the large central pool. All the villas have air conditioning, a hair dryer, an independent kitchen and are fully equipped with all necessary utensils

Staying at a villa with hotel services
We have eight fabulous villas in Residencial Bogamarí, of 2, 3 or 4 rooms (depending on what the customer requires), distributed around a huge swimming pool, barbecue area and gardens. You can enjoy the relaxation that comes with having your own villa to stay in during your holidays, while at the same time not being without the extra services a hotel can offer you.
This is the perfect fusion so you do not have to worry about a thing and can enjoy your privacy. In addition, the Bogamarí Residencial style differs from the rest in something that, according to many of the comments found on TripAdvisor, is one of the strong points: the familiarity of the residence, which just makes you feel more at home.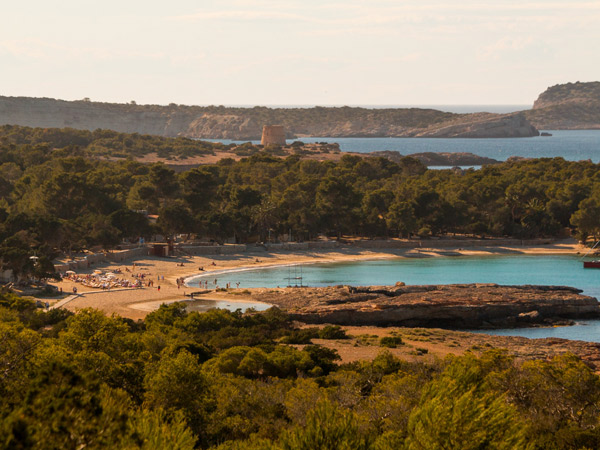 Location near beaches
The location of our villas, by the Bay of Sant Antoni, a few kilometres from the town, could not be better. Many water sports are done in the area and there are all kinds of nautical activities for all ages and tastes. We can also find many restaurants with all kinds of cuisine, as the gastronomic choice on offer in Sant Antoni is really vast. We would undoubtedly recommend you try the local cuisine, the Ibizan cuisine. But it is always good to have all kinds of restaurants on hand, so as to have plenty of choice.
What is more, you can easily access the most beautiful and well-known beaches of the west coast of the island from the villa. Beaches as emblematic as Platges de Comte where the most spectacular sunset of Ibiza or Cala Bassa can be admired, or a wide beach between pine trees… these are some of the beaches you will find a little more than 5 min away by car from Residencial Bogamarí. We also find nearby, familiar beaches in the same bay as Port des Torrent and Pinet Playa, where you can spend a wonderful day by the sea without having to travel long distances.
You can also visit nearby rural towns, such as Sant Agustí and Sant Josep, or visit the town of Sant Antoni by the sea with its beautiful sunsets. The villas are very easily connected by motorway to the city of Ibiza, where its animated nightlife and shopping zones are ideal for the most cosmopolitan among us. If you choose the bus, the bus stop is located a few metres from the villas and links with the fantastic beaches of the south and with Sant Antoni, from where many bus lines depart to Ibiza, Sant Josep and other towns.

Privacy
Having your own villa in Ibiza lets you enjoy the luxuries on offer and gives you a private area that you can organise as you wish, free from being held to the meal times set by a hotel. Each villa has access to the common areas but all have an outdoor patio with private barbecue so you can have your own outdoor peaceful corner away from other guests.
Choosing a private villa for your holidays can really be a great option, both for your own privacy and for the freedom it gives you. However, what we like most is without a doubt the feeling of being at home. At your own pace. The meal schedules you choose, with nothing forced on you. You get to forget about the annoying noises of suitcases being dragged through the corridors, or the decadent food in your buffet. Still undecided?
Comfort
Yes, you will get your freedom but you will not have to renounce the comforts of a hotel. We try to offer towels and a cleaning change (except the kitchen) three times a week in Residencial Bogamarí. We also change the bed sheets once a week. The villas have all kinds of amenities such as satellite TV, Wi-Fi and all the necessary utensils to make you feel at home.
In the common areas, we have a children's pool, a children's playground and a private car park that will make things easier for you and let the youngest of the household feel spoilt too in their own paradise.
Moreover, you do not need to stress about finding out information, just ask us. Perhaps you need a rental car, for example? Relax, we have a reliable partner who will have a car prepared for you with your chosen features upon arrival.
Price
We work hard to offer you the best possible quality at competitive prices, which is why we also want to reward our customers with special prices. We have an offer of 15% discount for stays over 6 nights, while for guests who like to plan ahead and pay 100% of the booking in advance, they will enjoy significant discounts on the official price (there will be no refund subject to cancellations).
Benefits of booking with us
We want to treat our clients as they deserve to be treated, as such, you will be greeted with a bottle of welcome champagne and amenities from Campos de Ibiza, in addition to having free Wi-Fi in all the villas. We also guarantee that you will pay the minimum price and we will immediately confirm your booking. Depending on availability, if you wish we can grant early check-in or late check-out so that you can organise yourself in the way that best suits you, because our task will always be to make you feel at home.
More information www.residencialbogamari.com