Ibiza is an island full of spectacular beaches where you can enjoy the best that the Mediterranean coast offers. Sun, sand, waves, relaxation and the essence of the good life. And once you're on the beach and want to take a break from sunbathing, it's time to enjoy the other side of what these places offer. That's why today we want to show you five beach clubs and restaurants for making your vacation much more special.
Amante Beach Club
On this island you will find many hidden beach coves where you can discover the authentic side of the island, but only a few can boast of such a glamorous place like Amante Beach Club, located in Sol d'en Serra beach. This exclusive beach club is the perfect place for Mediterranean cuisine lovers either to enjoy at lunchtime or dinnertime. Also, you can't miss their relaxing yoga session in the morning and health food buffet with all natural and organic foods and products. Or, you may prefer to enjoy their outdoor film projections. Anyhow, this stunning hidden beach cove is well worth visiting, and Amante Beach Club will make it even more memorable.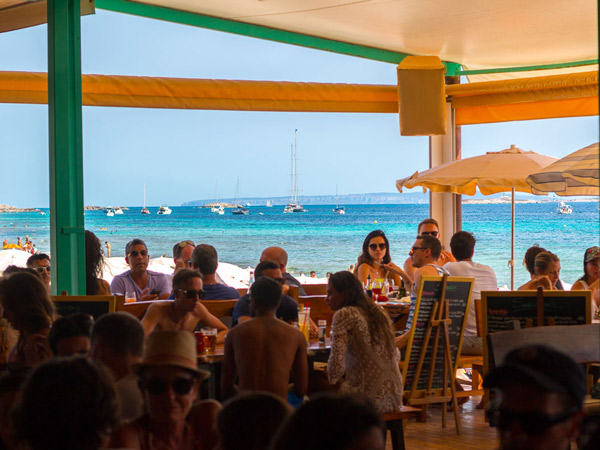 Jockey Club Ses Salines
If there is one beach that shows all the beauty of Ibiza that is Ses Salines, located in the heart of the homonymous Natural Park. This long beach is in the south of the island and it's definitely a must visit when on holidays in Ibiza. Here is where you'll find Jockey Club Salinas, the classic beach bar taken to another level with a lot of style. Here you can enjoy lively after dinner gatherings accompanied by the fantastic rhythm of the most prominent DJs on the scene. But don't think that it's the kind of place where you'll only find entertainment, as its Mediterranean essence cuisine is also admirable, and which will surely captivate those who come here looking for a nice place to eat by the sea.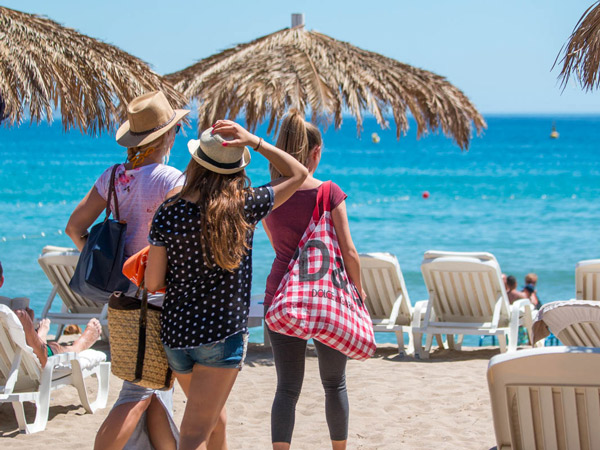 Tropicana Ibiza Beach Club
On the most cosmopolitan beach of the island, Platja des Jondal, you'll find the spectacular Tropicana Ibiza Beach Club, a family business that has been going on for decades but that has successfully managed to adapt constantly to the fast changing pace of the island and all this without losing the essence of the authentic Ibiza. And that is why this restaurant keeps offering the best of the island's cuisine with dishes prepared with a lot of care such as paella and fresh fish dishes. You can also enjoy their delicious and varied cocktails while lying on a sunbed right on the beach shore watching the soft waves. And to fully enjoy what this place offers be sure to visit on a Sunday, when they celebrate their tropical fiesta and where you can dance non-stop.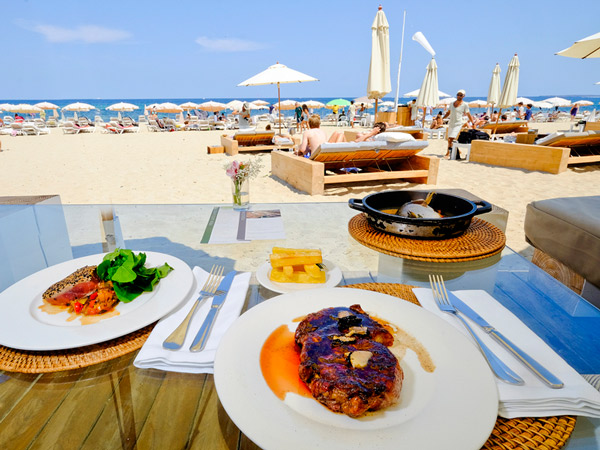 Photo Essentialibiza.com

El Chiringuito (Es Cavallet)
Apart from hot spots and trendy places where to enjoy the sun and sea, we're also showing you incredible beaches, and now it's time to visit Es Cavallet, another of the paradisiacal enclaves inside the Natural Park of Ses Salines. This immense beach offers spectacular views and mesmerizing waters, and without any doubt, the best place for enjoying all this beauty is definitely at El Chiringuito. This Beach Club, located in the easternmost part of the beach, has all the amenities so you can be delighted by the summer pleasures. From a spacious chill-out area to Balinese beds where you can relax peacefully. And we can't forget to mention its great international cuisine of French, Italian and, of course, Spanish inspiration. Simply scrumptious!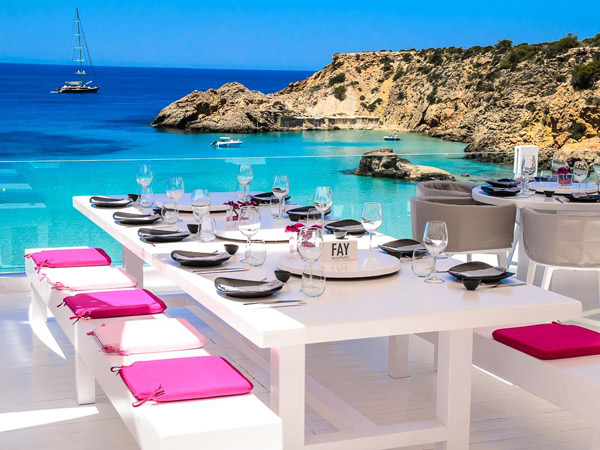 Cotton Beach Club
Finally, we want to show you one of the newest beach clubs of the island: Cotton Beach Club, an elegant proposal where the white motif is almost a religion. This place is ideal for enjoying its cuisine, based on Oriental cuisine and other international dishes where they don't forget the Mediterranean touch. In fact, they strive so hard to explore Asian cuisine that they have reserved for the most discerning palates and gourmets the rooftop where they situated their restaurant FAY. Another attraction of this place are its stunning views over the beach of Cala Tarida where from late summer you can watch the breathtaking sunset accompanied by the rhythm of the soft music played by a live DJ.